The following safety alert from the CPSC, on October 31, 2013.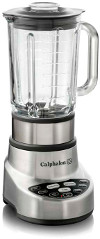 Calphalon Corporation, of Atlanta, GA is recalling Blenders because a piece of the blender's mixing blade unit can break off during use, posing an injury hazard.
This recall involves Calphalon XL 9 speed blenders, model 1832449, also identified as model ME600BL. The model number is located on the underside of the blender's base. The blender consists of a 5-inch tall, brushed-aluminum base with cord storage, the Calphalon logo in black letters at the front, and nine black/white speed selectors with labeling, plus the power button. It also has a clear 56-ounce glass pitcher with a handle and U.S. and metric volume measurement markings; a black plastic lid with a removable clear plastic lid stopper/measuring cup; and a metal blade assembly with six-sided, stainless steel blades.
Consumers should immediately stop using the recalled blender and contact Calphalon for a free repair kit. Consumer can contact Calphalon at (800)-809-7267, from 8 a.m. to 5 p.m. ET Monday through Friday or online at www.Calphalon.com and click on "XL 9 Speed Blender Recall Information" for more information.
This product was sold at Bed Bath & Beyond, Kohl's, JCPenney, Macy's and other major retail stores nationwide and online at Calphalon.com, Amazon.com, Cooking.com, and Zappos.com, among others, from September 2012 through September 2013 for about $130.
The following safety alert from the CPSC, on October 31, 2013.

LaRose Industries LLC, of Randolph, N.J. is recalling Snoopy Sno-Cone Machines because a brass rivet can fall out of the sno-cone machine's ice-shaving cylinder and into a sno-cone, posing a risk of injury to the mouth or the teeth. This recall involves Cra-Z-Art Snoopy Sno-Cone Machines with one of three batch numbers BCH003005A28-0812, BCHTRU001A17-0812 or BCHTRU004A16-0712 printed on the back of the white plastic doghouse and on the side of the box. The plastic sno-cone machines are white in the shape of a dog house with a red roof and red shovel. Snoopy is on the dog house and Charlie Brown and Lucy images are on the front along with a snowman. A metal ice-shaving cylinder in the middle of the sno-cone machine dispenses ice shavings out of the front. The words "SNOOPY" and "SNO-CONES" are on the front of the machine and "Cra-Z-Art" is on the back.
Consumers should stop using the recalled sno-cone machines immediately and contact LaRose Industries for a free repair kit, which includes a new ice shaving cylinder. Do not return the recalled sno-cone machines to the store where purchased.
Consumer can contact LaRose Industries toll-free at (855) 345-4693 between 8:30 a.m. and 5:30 p.m. ET Monday through Friday, email recall@laroseindustries.com or online at www.laroseindustries.com which takes consumers to the Cra-Z-Art website and click on the Recall tab more information.
This product was sold at Barnes & Noble, Target and Toys R Us stores nationwide and online at www.amazon.com from September 2012 through July 2013 for about $15.
The following news is from the Foodmanufacturing.com on October 18, 2013.
A European Union report said that olive oil, fish and organic food are the foods that are most likely to be fraudulent. The other foods that are likely to be fraudulent are milk, grains, honey and maple syrup, coffee and tea, spices, wine, and certain fruit juices.
The following additional story concerning kosher chicken food safety is from the FoodSafetyNews on October 11, 2013.
Timothy D. Lytton and Joe M. Regenstein, Ph.D. wrote a article explaing the misconceptions about kosher chicken production in the general public and the article below and the need for further study.
According to the authors: "A more likely explanation for the elevated E. coli levels lies in feather removal. The most efficient and common way to remove chicken feathers is to soak the carcass in scalding water, which makes the feathers easier to pluck mechanically. Kosher restrictions do not allow for any form of cooking a chicken — which includes immersion in scalding water — until after the meat has been soaked and salted to remove the blood. As a result, kosher production requires chickens to be dry plucked or soaked in very cold water to firm up the flesh so that it survives an automatic plucking process. Immersion in scalding water prior to plucking of non-kosher poultry production reduces microbial load, by either washing microbes away or by killing them, which might account for differences between kosher and other production methods."
The authors stress that any further study needs to be based on understanding kosher production and regulation.
---
The following health related news is from the ThePoultrySite on October 8, 2013.
A study at Northern Arizona University (NAU) and four other institutions found antibiotic resistant E. coli in chickens from a range of production methods, but the greatest amount was found in kosher chickens. "Kosher chickens carried the greatest amount of antibiotic-resistant E. coli, while organic chicken showed antibiotic-resistant bacteria levels just as high as conventional chicken. Only chickens 'raised without antibiotics' (RWA) came in with reduced but still contaminated, levels of the E. coli 'superbug".
"The chicken researchers are from the Horace Mann Bronx Campus, Translational Genomics Research Institute of Flagstaff, NAU and George Washington University in Washington DC. Dr Bruce Hungate, director of the Ecosystem Science and Society Center, and NAU professor of biology, headed the team. The research was funded by the Merriam-Powell Center for Environmental Research and the Ecosystem Science and Society Center, both at NAU."
The researchers purchased 213 samples of raw chicken from 15 locations in the New York City metropolitan area from April to June, 2012.
"The study found that strains of E. coli isolated from samples in the RWA category tended to be resistant to fewer drugs 'but the difference was not significant versus conventional and organic, which did not differ from each other' ".
Ed. note: cooking the chicken so that the internal temperature reaches 165° F. will kill the bacteria in the chicken.
The following safety alert from the CPSC, on September 19, 2013.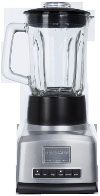 Frigidaire Professional blenders have been recalled because the blender's blade shaft assembly can break during use, posing a laceration hazard to consumers.
This recall involves Frigidaire Professional© brand blender model FPJB56B7MS with a serial number between FFP 49 1203 0001 and FFP 49 1237 00974. The model and serial numbers are located on a serial plate on the underside of the blender's motor base. Frigidaire Professional is printed on the front base of the blenders. The 5-speed blender is brushed aluminum and has black buttons on the front. The blender container is a 56-oz. clear glass jar with a black lid and a black base.
Consumers should stop using the recalled blenders immediately and contact Frigidaire for instructions on returning the blenders for a free replacement blender.
These products were sold at Best Buy, Target and other stores nationwide and online at amazon.com, bedbath.com and other online retailers from March 2012 through July 2013 for about $130.
Consumer can contact Frigidaire toll-free at (888) 747-7637 from 8 a.m. to 7:30 p.m. CT Monday through Friday and from 10 a.m. to 6:30 p.m. CT on Saturday and Sunday, or online at www.frigidaire.com and click on Product Recall at the bottom of the page for more information or online at www.blenderrecall.com and enter the blender's serial number to determine if the blender is part of the recall.
The following Sukkot information is from the cRc on September 13, 2013. This informarion was resent out by the Atlanta Kashus Commion.

with additional information on September 17, 2013.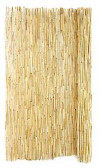 "This year, the Home Depot store located at 6211 N. Lincoln Ave., Chicago, IL 60659 is selling Natural Reed Fencing with the Hampton Bay brand name. As per the guidelines provided by Rav Schwartz and Rav Fuerst in previous years, we are able to recommend two varieties which are very similar to one another:
A 6 foot X 16 foot variety, with UPC code 48037 06164, and marked as having a Natural Finish. This variety is being sold in the aforementioned store, and is also available elsewhere in the Midwest.
A 6 foot X 16 foot variety, with UPC code 48037 06167, and marked as having a Peeled and Polished Finish. This variety is being sold on the West Coast, and may also be available elsewhere.
This may be used as schach only if:
The reeds are placed perpendicular to the schach support-beams rather than parallel to the beams, as shown in the diagram below.
A 2 X 4 or some other piece of kosher schach should be placed on top of the fencing so that the fencing is secure enough to not blow off during Succos. This condition applies to all lightweight schach including mats, and is based on Shulchan Aruch 628:2.
As with all schach, the schach-portions of the mat must be thick enough that they provide more shaded area than open space (Shulchan Aruch 631:1). Other similar items have not been investigated and should only be used after consulting with one's Rabbi.
To see the results of the research and the proper way to put it on your sukkah, please click here. The second page is an explanation of the psak.
The following safety alert is from the rabbi of the Young Israel of Brooklineposted on September 13, 2013.
Please be aware that one must leave a window open or exhaust fan on when a gas range or oven on for the holidays to prevent a possibly fatal buildup of carbon monoxide.
From the COR Detroit: Please consult your Rav regarding what is permissible in case your carbon monoxide detector sounds on Shabbos or Yom Tov.
The following news is from the Food Navigator on September 11, 2013.
Chr Hansen is devloping a fermentation process to produce carmine by fermentation.
The following news is from the Beverage Daily on September 13, 2013.
Researchers at University of California, Davis have developed chemical fingerprints for 60 US whiskeys. The chemical signatures reflect grains, barrels, aging and other factors involved in distilling. This can help discourage and detect fake products. The compounds important in differentiating between whiskeys are oak-related polyphenols, fatty acids and flavnoid glycosides.
The following safety alert from the CPSC, on August 28, 2013.

Vitamix 64-ounce Low-Profile Container has been recalled because the blade can break, creating a laceration hazard to consumers. The recall involves Vitamix 64-ounce Low-Profile containers with blade part number 103208 A and blade date codes 03-12 (March 2012) through 07-13 (July 2013). The blade part number and date code are laser etched onto the top of the blade at the bottom of the container. The clear, plastic, 64-ounce container with black plastic handle and lid was sold with Vitamix blender models 7500, Professional Series 300, Professional Series 750 and individually. Replacement blades with part number 104602 A are not affected. Major retailers nationwide and online at vitamix.com from April 2012 to August 2013 for about $529 to $749 with different model base or $149 for the container alone. Products were also sold through show demonstrators, who demonstrate products at retail outlets, consumer shows, fairs and other venues.
Consumers can call Vitamix toll-free at (888) 350-4386 from 8 a.m. to 8 p.m. ET Monday through Friday and 8:30 a.m. to 5:00 p.m. ET on Saturdays or online at www.ContainerBladeRecall.com for more information or by going to www.vitamix.com, then clicking on the "Customer Service" link at the bottom of the page, and clicking on the link for "Voluntary Recall on Vitamix Containers."