OU Kosher Advisory OU P Xylitol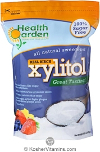 April 6, 2017 from the OU:
Products requiring Passover certification must bear the OU-P or 'OU Kosher For Passover' designation. Some products, like Health Garden Xylitol, come in both OU and OU P varieties. Consumers should carefully look for the OU P designation to ascertain that the product is kosher for Passover.
Orthodox Baking Co Issues Allergy Alert On Undeclared Almond Paste In "Chocolate Kokosh Cake"


April 10, 2017 from the fDA:
Orthodox Baking Co. in Belleville, N.J. 07109, today announced a voluntary recall of its 16 ounce packages of Oberlander Gluten Free Brand "Chocolate Kokosh Cake" chocolate filled cake because they contain undeclared almond paste. People who have allergies to almonds run the risk of serious or life-threatening allergic reaction if they consume this product.
The recalled "Chocolate Kokosh Cake" were distributed nationwide in retail stores and supermarkets. No other products are impacted.
The product comes in a 16 ounce, clear plastic package with a wraparound label. It is marked with a "last date sale" of April 30 printed on the back of the label and further identified with UPC #43711 18093 7.
This voluntary recall was initiated on April 5, 2017, after an unconfirmed report of an allergic reaction was investigated by Orthodox Baking Co. and it revealed that the almond paste-containing cake was distributed in packaging that identified in the ingredient declaration the presence of "kernel paste" instead of "almond paste". The problem was caused by a labeling error limited to this item. Consumers who have purchased 16 ounce packages of "Chocolate Kokosh Cake" chocolate filled cake are urged to return them to the place of purchase for a full refund.
Due to Passover Holiday consumers with questions may contact the company only during these specific dates and times: Thursday, April 13, 2017 from 1PM to 3PM EDST at the following number 1- 347-450-7077
Passover alert - Non-Passover product in Passover section of store

April 6, 2017 from the COR Detroit Pesachgram:
SCHICK'S CHOCOLATE BABKA, which is chometz, is still being sold in the Passover section at Costco in Madison Heights, Michigan (see attached picture), despite repeated requests to the management to correct this. Consumers should voice their displeasure to Costco management.
Ed. note: Check each purchase for the Passover certification. There are many reports of product mix-ups and similar packaging for Passover and non-Passover products. For Ashkenazim be aware of many products containing kitniot in stores.
Miscellaneous Passover information and alerts: Over the Counter Medicines and Vitamins and Toiletries
April 5, 2017
Passover information on virgin coconut oil
April 3, 2017 from the OU Wedinar and confirmed by the OU:
Virgin (unrefined, cold-pressed) coconut oil with an OU is acceptable for Pesach without a "P". (no added ingredients)
Prigat Strawberry Banana Drink Can Has been stamped erroneously as Kosher for Passover

April 4, 2017 from the OK:
Please be advised that It has come to the OK's attention that Prigat Strawberry Banana Drink (Can) UPC: 7 290001 594452 with a Best Before Date of Feb/06/18 Has been stamped erroneously as Kosher for Passover.
The OK does not certify this above mentioned product as Kosher for Passover and this product shall not be consumed on Passover.
This product is kosher for year round non-Passover use. This notice applies strictly to above mentioned product.
All other Prigat products that bear the Passover symbol are kosher for Passover without any concern.
The OK strongly advises to inspect all products prior to consumption to ensure that they bear the Passover designated classification.
Mexican Passover alert on Kipe and Kosas cumin
April 4, 2017 from KMD Mexico:
El comino de Kipe y Kosas se le puso por error una etiqueta de Pésaj.El producto no est&aachute; autorizado para Pésaj.
Translation by Google Translate:
The Kipe and Kosas cumin was mistakenly labeled a Pesach. The product is not authorized for Pesach.T
Passover & Kashrus alert - ALICHA TRUFFLES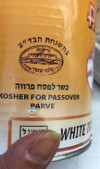 April 4, 2017 Kosher Technical Consultants:
ALICHA TRUFFLES, Product of Morocco, are NOT certified as Kosher / Kosher for Passover by Rav Shelomo Machpud or Orthodox Jewish Council /Kosher Technical Konsultants. This is a totally fake product. It is being sold by Rishon Foods aka Holon Foods, Brooklyn, NY.
Passover advisory - Flax and Hemp seed from Bob's Red Mill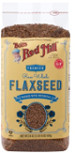 April 3, 2017 from the OK responding to a question from the editor:
Notice for people purchasing flax and hemp seed for use on Passover: Oat is milled in the gluten free room at Bob's Red Mill. According to the company it is milled on a dedicated mill and there are no cross contamination between the oat and other products milled in the same room. However, the OK does not take responsibility for that. Please consult your local Rabbi if their flax and hemp seeds can be purchased for Passover.
Passover alert - Benefiber & other Passover fiber supplement information

March 30, 2017 from the OU:
n the 2017 edition of the OU Guide for Passover (page 100) Nutrisource Benefiber is listed as approved for those who are ill. The correct name for this product is Nutrisource Fiber. It should be noted that a product called Benefiber, manufactured by Glaxo Smith Kline (GSK) contains wheat dextrin (as listed in the ingredients label) and is chametz and one should not eat or possess this product on Passover. Another product called Benefiber, manufactured by Novartis and sold in Israel, contains guar gum (as listed on the ingredients label) and is chametz-free.
From the COR:
Benefibre is acceptable for use on Passover in Canada. Benefibre from the United States has a different formula and is not kosher for Passover.
Restoralax is acceptable for use on Passover.
Original Coarse Metamucil is acceptable for use on Passover. It is also kitniyot free.
The following fiber supplements are listed as usable for Passover by the cRc
Citrucel Caplets
Dulcolax Suppository
Fibercon Caplets
Miralax Powder
Pedia-Lax Suppository
Peri-Colace Tablets
Phillips' Milk of Magnesia Caplets
Prunelax Ciruelax Tablets
Senokot Tablets
Senokot-S Tablets
Walgreens Mineral Oil
Also from the cRc:
Pure psyllium Husk is Acceptable Without Pesach Certification