The following safety alert from the CPSC on February 27, 2013.

Jerdon Style LLC, Richardson, TX, is recalling One-Cup Coffeemakers because the coffeemaker can overheat, posing fire and burn hazards to consumers.
This recall involves Jerdon Style model CM12B one-cup coffee makers, with date code 1217. The coffee makers are black and have an oval, red indicator light above the on/off switch. The coffee maker brews a single, eight to 12-ounce cup of coffee. The phrases "FIRST CLASS" and "JERDON" are printed in white letters on the front of the product. The model and date code are imprinted on a nameplate located on the bottom of the coffeemaker.
This product was sold at Hotel/motel product suppliers and major online retailers from July 2012 to January 2013 for between $15 and $26.
Consumer can contact Jerdon Style; at (800) 223-3571, from 8:30 a.m. to 4:30 p.m. CT Monday through Friday, or online at www.jerdonstyle.com and click on "Recall Information" at the bottom of the page for more information.
The following news from Justice.gov on February 21, 2013.
"Five individuals and two domestic honey-processing companies have been charged with federal crimes in connection with a U.S. Immigration and Customs Enforcement (ICE) Homeland Security Investigations (HSI)-led investigation surrounding illegal importations of honey from China.
The charges assert that the Chinese-origin honey was misdeclared as other commodities upon importation into the United States and transshipped through other countries to evade anti-dumping duties. Altogether, the seven defendants allegedly evaded anti-dumping duties totaling more than $180 million.
In June 2011, an HSI undercover special agent assumed the role of the director of procurement at Honey Holding I Ltd., which by then was cooperating with the investigation. Honey Holding, doing business as Honey Solutions, of Baytown, Texas, and Groeb Farms Inc., of Onsted, Mich. two of the nation's largest honey suppliers have both entered into deferred prosecution agreements with the government. Honey Holding has agreed to pay $1 million and Groeb Farms has agreed to pay $2 million in fines. Both companies have also agreed to implement corporate compliance programs as part of their respective agreements.
The individual defendants include three honey brokers, the former director of sales for Honey Holding, and the president of Premium Food Sales Inc., a broker and distributor of raw and processed honey in Bradford, Ontario. In December 2001, the Commerce Department determined that Chinese-origin honey was being sold in the United States at less than fair market value, and imposed anti-dumping duties. The duties were as high as 221 percent of the declared value, and later were assessed against the entered net weight, currently at $2.63 per net kilogram, in addition to a honey assessment fee of one cent per pound of all honey.
In 2008, federal authorities began investigating allegations involving circumventing anti-dumping duties through illegal imports, including transshipment and mislabeling on the supply side of the honey industry. The investigation resulted in charges against 14 individuals, including executives of Alfred L. Wolff GmbH and several affiliated companies of the German food conglomerate. The defendants were charged with allegedly evading approximately $80 million in anti-dumping duties on Chinese-origin honey. Authorities seized and forfeited more than 3,000 drums of honey that illegally entered the United States.
The second phase of the investigation, announced today, involves allegations of illegal buying, processing and trading of honey that illegally entered the United States on the demand side of the industry. Some of that honey was adulterated with antibiotics not approved by the Food and Drug Administration (FDA) for use in honey. None of the charges allege any instances of illness or other public health consequences attributed to consumption of the honey. The investigation is continuing."
The following safety alert from the CPSC on February 14, 2013.

Cramer recalls Task*It 1-UP folding step stools due to fall hazard. The folding step stool can crack or break and collapse, posing a fall hazard to the user. Consumer can contact Cramer LLC at (800) 366-6700 from 8 a.m. to 4:30 p.m. CT Monday through Friday or visit the firm's website at www.cramerinc.com.
The following news is from the Ingredientnetwork.com on February 13, 2013.
Camel milk approved for export to EU. According to The Emirates Industry for Camel Milk & Products (EICMP), producer of 'Camelicious', which is based on camel milk, the EU has given approval that the UAE and Dubai can export dairy products to the European Union. Camelicious is sold in 260ml, 500ml and 1 litre bottles at supermarkets in the region. It is used as a medicinal product in India, and the Bedouins of the Middle East believe it to have curative powers. EICMP's farms are capable of producing close to 5,000 litres of camel milk per day.
The following news is from the Globaldispatc.com and barfblog.com posted on February 10, 2013.
Dozens of hepatitis A cases reported in the Tel Aviv area in Israel since last year may be linked to vegetables sold in open-air markets in the south of the city according to a report from the Health Ministry of Israel.
The following safety alert from the CPSC on February 6, 2013.

Progressive International Recalls Canning Jar Lifters Due to Laceration Hazard
The jar lifter handle can detach over time due to a missing stainless steel core in the hinge. This can cause the tongs to fail to grip and allow a jar being lifted to fall, posing a laceration hazard to the user.
Customers can contact Progressive International Corporation Customer Service; at (800) 426-7101, from 9 a.m. to 5 p.m. PT Monday through Friday; or by e-mail at jarlifter@progressiveintl.com; or online at www.progressiveintl.com and click on "Recall Information" for additional information.
The following safety alert from the CPSC on February 7, 2013.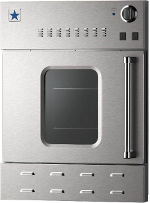 BlueStar™ residential gas wall ovens have been recalled because Some of the wall ovens have been improperly installed and/or have damaged flexible gas appliance connectors, posing a fire hazard. Consumers should immediately stop using the recalled ovens, contact BlueStar for instructions on identifying affected units and to schedule a repair.
Consumer Contact: BlueStar; at (800) 449-8691, from 9 a.m. to 5 p.m. ET Monday through Friday, or online at www.bluestarcooking.com and click on "Recall" for more information.
Model Name

Model Numbers

Color

24-Inch BlueStar™ residential wall oven with swing door

BWO24AGS

BWO24AGSL

All Colors

30-Inch BlueStar™ residential wall oven with French doors

BWO30AGS

BWO30AGSL

All Colors

36 -Inch BlueStar™ residential wall oven with French doors

BWO36AGS

BWO36AGSL

All Colors


Incidents/Injuries: The firm has received one report of a fire, resulting in property damage to the cabinet that held the oven. No injuries have been reported.
Sold at: Appliance stores and authorized kitchen equipment dealers nationwide between January 2008 through November 2012 for between $2,250 and $3,900.
Manufacturer: Prizer Painter Stove Works Inc., of Reading, Pa.

The following news from the Thomson Reuters and JewishPresson January 31, 2013.

"ConAgra Foods Inc has won the dismissal of a lawsuit filed by consumers claiming the company's Hebrew National hot dogs and other products are not kosher.
"U.S. District Judge Donovan Frank in St. Paul federal court ruled on Thursday that he does not have jurisdiction over a dispute that he described as 'intrinsically religious in nature.'" "Eleven consumers filed the lawsuit last May, asserting that ConAgra misled customers into believing that its products were kosher according to "the most stringent" Orthodox Jewish standards by including a symbol on its packaging." ConAgra was the only defendent in the lawsuit and not TriangleK and AER Services Inc, the meat processor. "It is Triangle K and its Orthodox rabbis who make such determinations," said Frank. "Naturally, therefore, this court cannot determine whether defendant's Hebrew National products are in fact kosher without delving into questions of religious doctrine."

The following safety alert from the CPSC on January 31, 2013.

The child-resistant caps on Triaminic® Syrups and Theraflu Warming Relief® Syrups can fail to function properly and enable the cap to be removed by a child with the tamper-evident seal in place, posing a risk of unintentional ingestion and poisoning. These products contain acetaminophen and diphenhydramine which are required by the Poison Prevention Packaging Act to be sealed with child-resistant packaging. This recall involves Triaminic® Syrups and Theraflu Warming Relief® Syrups for coughs, colds and fevers. There are 24 types of these two products included in the recall. A complete list of products, lot numbers and National Drug Codes (NDC) can be found at www.novartisOTC.com. Lot numbers are located on the bottom panel of the box and on the left side of the label on the bottle. The NDC number is located on the upper right corner of the front panel of the Triaminic Syrups box and the upper left corner of the Theraflu Warming Relief Syrups bottle.
Consumers should immediately stop using the recalled product and contact Novartis Consumer Healthcare toll-free at (866) 553-6742 from 8 a.m. to midnight ET, Monday through Saturday, or online at www.novartisOTC.com for more information.

The following safety alert from the CPSC on January 17, 2013.

The U.S. Consumer Product Safety Commission, in cooperation Hy Cite Enterprises LLC, of Madison, WI announced a voluntary recall of Royal Prestige 9-Ply Thermal Wall Cookware manufactured by Meyer Europe, SRL, of Verdellino, Italy. The cookware can collapse, crimp or severely deform when exposed to heat, posing a burn and fire hazard to the consumer and nearby property.

Incidents/Injuries: The company is aware of 1,136 reports of cookware collapsing, crimping or deforming, including one report of consumers getting spattered with hot oil when the pan collapsed inward while cooking.

Description: This recall involves stainless steel 9-ply "Thermal Wall" pans sold under the "Royal Prestige" brand name. The products were sold individually and in sets. The following cookware is included in this recall:

1.5 qt. saucepan
2 qt. saucepan
3 qt. Dutch oven
4 qt. Dutch oven
6 qt. Dutch oven
8 qt. Dutch oven
8" skillet
10.5" skillet
10" paella pan
14" paella pan

Recalled pots and pans have a seal including "Thermal Wall" and "9-Ply" imprinted on the bottom of the pot or pan.

Sold at: Independent distributors of Hy Cite Enterprises sold this product through door-to-door sales for between $250 to $800 for individual products and from $800 and $3,500 for sets.

Manufactured in: Italy

Remedy: Consumers should stop using the cookware immediately and contact Hy Cite for instructions for sending the cookware to the firm for repair. Damaged pots and pans will be replaced.

Consumer Contact: Hy Cite Enterprises at (800) 609-9577 from 8 a.m. to 9 p.m. CT Monday through Thursday, 8 a.m. to 5 p.m. CT on Fridays, and 8 a.m. to 12:00 p.m. CT on Saturdays or at www.royalprestige.com or www.hycite.com and go to the Recall Information link.

Older news

The information posted is from secondary sources. We cannot take responsibility for the accuracy of the information.