The following news the foodmanufacturing.com and oceana.com posted on December 11, 2012.
Oceana found 39 percent of seafood to be mislabeled in the New York City-area. 40% of seafood sold at small grocery stores and markets were found to be mislabled. DNA testing of 142 seafood samples from 81 retail outlets, including grocery stores, restaurants and sushi venues, confirmed that 56 samples were mislabeled according to United States Food and Drug Administration (FDA) guidelines. Recent investigations by Oceana in Boston, Miami and Los Angeles found mislabeling rates up to 55 percent for seafood sold in sushi bars, restaurants and grocery stores. In New York 100 percent of the 16 sushi venues tested sold mislabeled fish. 94 percent of the "white tuna" was not tuna at all, but escolar, a snake mackerel that has a toxin with purgative effects for people who eat more than a small amount of the fish (and not kosher). Farmed Pangasius, a catfish- like fish, and hake were among the fish substituted for cod.
Ed. note: This is not a new story. www.kashrut.com/consumer/fish has more information on kashrus issues with fish.
The following news the ingredientsnetwork.com on December 11, 2012.
Chr. Hansen has started a project in rural Kenya and Somalia to help people produce Camel Cheese. They have developed a camel chymosin that produces cheese with camel milk.
The following Israeli news the lifeinisrael.blogspot.com on December 2, 2012.
The Israeli Chief Rabbinate has created a new type of kashrut certificate in which the certificate consists of a QR code that can be scanned by a smartphone with internet access. The QR code will take the viewer to an image of the actual kashrut certificate on the Rabbanut website, along with all details regarding kashrut of the establishment. Lifeinisrael.blogspot.com reported that the first placement is in Ashdod.
The following safety alert from the FDA on November 17, 2012.

Focus Products Group International, LLC announces the following voluntary recall. Consumers should immediately stop using the Cocoa Latte™ Hot Drink Maker and contact the Focus Products Call Center for instructions on how to return the product and receive a replacement. The machines were sold under the following makes and model numbers:
West Bend
Back to Basics

CM300BK, CM300BKL, CM300BLSS, CM300BR, CM300BRBRL CM300BRL, CM300W
Focus Products of Lincolnshire, IL, is voluntarily recalling Cocoa Latte Hot Drink Makers because a small bushing inside the container has the potential to leach lead. To date, Focus Products has received no notice of any consumer complaints. However, the company's independent testing revealed the potential problem, and out of an abundance of caution, the company voluntarily decided to recall the product.
The only affected products are the Cocoa Latte Hot Drink Makers, makes and model numbers listed above. The Cocoa Grande™ Hot Drink Maker is NOT affected by this recall. The Cocoa Latte Hot Drink Makers shipped nationwide starting in 2004 through October 12, 2012. The affected products come in a variety of colors with transparent pitchers, and were sold primarily in the United States through various retailers such as Bed Bath & Beyond, through various e-retailers such as Amazon.com and through Focus Products' online store.
Consumers in possession of a Cocoa Latte Hot Drink Maker should contact Focus Products' Call Center at 1-888-943-5202. Further information will be available on Focus Products' websites, www.focuspg.com disclaimer icon and www.westbend.com disclaimer icon .
The following safety alert from the CPSC on November 8, 2012.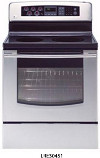 The U.S. Consumer Product Safety Commission is recalling the following LG Electronics Inc., South Korea ranges because burners on the electric ranges can fail to turn off after being switched off and the temperature setting can increase unexpectedly during use, posing burn and fire hazards to consumers. The recalled ranges involve models LRE30451, LRE30453, LRE30755, LRE30757, and LRE30955ST. They were sold in black, white and stainless steel and with a smooth black ceramic glass top cooking surface. The recalled ranges have serial numbers starting with 512, 601, 602, 603, 604, 605, 606, 607, 608, 609, 610, 611, 612, 701, 702, 703, 704, 705, 706, 707, 708, 709, 710, 711, 712, 801, 802, 803, 804, 805, 806, 807, 808, 809, 810, 901, 902, 903, 904, 905, and 906. The model and serial numbers can be found on a label that can be seen by opening the storage drawer at the base of the unit. The electric ranges are about 47½ inches tall to the top of the backguard, 29 inches wide and 28 inches deep. Sold at Best Buy, Home Depot, Sears, and regional appliance retailers nationwide from January 2006 to June 2010 for between $800 and $1999. Manufactured in: South Korea and Mexico Consumers should immediately contact LG to schedule a free in-home repair. Consumers whose burner heat setting cannot be regulated by using the controls or who experience problems with a cooktop burner remaining on, should immediately stop using the recalled electric range until it is repaired. Consumer Contact: LG; toll-free at (855) 400-4638, from 8 a.m. to 7 p.m. CT Monday through Friday, and from 8 a.m. to 2 p.m. Saturday, or www.LG.com/us and click on Public Notices in the Customer Services section for more information.
The following safety alert from the CPSC on October 9, 2012.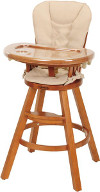 The U.S. Consumer Product Safety Commission and Health Canada, in cooperation with Graco Children's Products Inc., Atlanta, GA, today announced a voluntary recall of Graco Classic Wood Highchairs because the high chair's seat can loosen or detach from the base, posing a fall hazard to the child.
Graco has received 58 reports of the high chairs' seats loosening or detaching from the base. There have been nine reports of children falling as the seat detached from the base, resulting in reports of bumps, bruises and scratches. Graco has received one report of a concussion in Canada.
This recall involves all Graco brand Classic Wood Highchairs sold in three wood finishes. The high chair has a top seat, bottom leg assembly and removable tray. The high chair is sold with a beige fabric seat cover. Model number 3C00BPN, 3C00BPN TC, 3C00CHY, 3C00CHY TC, 3C00CPO or 3C00CPO TC is printed on a label on the underside of the seat assembly.
It was sold at Babies R Us, Burlington Coat Factory and other retail stores nationwide and at Target.com and Walmart.com and other online retailers between September 2007 and December 2010 for about $130.
Consumers should immediately stop using the recalled high chairs and contact Graco for a free repair kit. For additional information, contact Graco at (800) 345-4109 between 8 a.m. and 5 p.m. ET Monday through Friday and, or visit the firm's website at www.gracobaby.com
The following alert concerning information is from the Jerusalem Kosher News on September 24, 2012.
The U.S. Food and Drug Administration (FDA) today issued further information and guidance regarding registration requirements for domestic and foreign manufacturers, processors, packers or holders of food for human or animal consumption based on changes made by the FDA Food Safety Modernization Act (FSMA) to the Federal Food, Drug, and Cosmetic Act (FD&C Act). The updated food facility registration system will become available at 12:01 a.m. Monday morning, October 22, 2012.
Food producers and manufactures have long been required to register with the Food and Drug Administration. There is no fee to register or renew the registration of a food facility. Facilities can register online, via mail or fax. FDA encourages online registration as a quick and efficient means for food facility registration.
The Food Safety Modernization Act improves the registration process by ensuring, among other things, that the FDA has accurate contact information for each facility. The new registration form also includes new categories of foods. These new categories will help FDA rapidly communicate with the right facilities in the event of an emergency.
Information on registration is found at www.fda.gov/food/guidancecomplianceregulatoryinformation/registrationoffoodfacilities/default.htm.
The following alert concerning Sukkos is from the Jerusalem Kosher News on September 24, 2012.
The Badatz Eida Chareidis posted signs to warn shoppers regarding esrogim purchased in sealed boxes with its hechsher. The hashgacha explains that the kashrus certification is ONLY to verify the source of the esrog, guaranteeing it is not grafted and not orla. The badatz DOES NOT inspect each individual esrog regarding its kashrus (black spots, holes & etc). Therefore, one must determine the level of one's esrog oneself or in consultation with one's rav.
Additional information concerning purchase of the minim in Israel from Jerusalem Kosher News can be found here.
The following alert concerning Sukkos is from the Star-K on August 29, 2012.
Some companies are claiming to sell Star-K certified Schach, however the only schach Star-K certified is the monofilament bamboo schach manufactured by National Sukkah Outlet and only when bearing the Star-K Letter of Kosher Certification.
The following news from the Foodmanufacturing.com on September 13, 2012.
New York City's Board of Health passed a rule banning sales of big sodas and other sugary drinks at restaurants, concession stands and other eateries.
The regulation, which was proposed in the spring by Mayor Michael Bloomberg and approved by panel of health experts after several months of review, puts a 16-ounce size limit on cups and bottles of non-diet soda, sweetened teas, and other calorie-packed beverages.
The ban will apply in fast-food joints, movie houses and Broadway theaters, workplace cafeterias, and most other places selling prepared food.
The ban does not cover beverages sold in supermarkets or most convenience stores. The rule wouldn't apply to lower-calorie drinks, such as water or diet soda, or to alcoholic beverages or drinks that are more than half milk or 70 percent, unsweetened juice. Enforcement would be conducted by an existing corps of city restaurant inspectors. A violation would lead to a $200 fine.