The following alert concerning Sukkos is from the Star-K on August 29, 2012.
Some companies are claiming to sell Star-K certified Schach, however the only schach Star-K certified is the monofilament bamboo schach manufactured by National Sukkah Outlet and only when bearing the Star-K Letter of Kosher Certification.
The following news from the Foodmanufacturing.com on September 13, 2012.
New York City's Board of Health passed a rule banning sales of big sodas and other sugary drinks at restaurants, concession stands and other eateries.
The regulation, which was proposed in the spring by Mayor Michael Bloomberg and approved by panel of health experts after several months of review, puts a 16-ounce size limit on cups and bottles of non-diet soda, sweetened teas, and other calorie-packed beverages.
The ban will apply in fast-food joints, movie houses and Broadway theaters, workplace cafeterias, and most other places selling prepared food.
The ban does not cover beverages sold in supermarkets or most convenience stores. The rule wouldn't apply to lower-calorie drinks, such as water or diet soda, or to alcoholic beverages or drinks that are more than half milk or 70 percent, unsweetened juice. Enforcement would be conducted by an existing corps of city restaurant inspectors. A violation would lead to a $200 fine.
The following safety alert from the CPSC on August 30, 2012.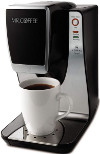 The U.S. Consumer Product Safety Commission and Health Canada, in cooperation with Sunbeam Products Inc. d/b/a Jarden Consumer Solutions ("JCS"), of Boca Raton, FL announced a voluntary recall of the Mr. Coffee® Single Cup Brewing System. Consumers should stop using this product because a build-up of steam in the water reservoir can force the brewing chamber open and expel hot coffee grounds and water, posing a burn hazard. JCS has received 164 reports of the brewing chamber opening due to steam pressure, including approximately 59 reports in the U.S. and two in Canada of burn injuries to consumers' face, upper torso and hands.
The recalled coffeemaker comes in black with silver, red or white trim. It stands about 11 inches tall and has a Brew Now /Off button and a removable drip tray. The water tank is located on top of the unit towards the back. The model number is printed on the bottom of the brewer. Recalled model numbers are:
| | | |
| --- | --- | --- |
| BVMC-KG1 | BVMC-KG1A-001 | BVMC-KG1-WM-001 |
| BVMC-KG1-001 | BVMC-KG1-BEA | BVMC-KG1R-001 |
| BVMC-KG1-044 | BVMC-KG1BP-PAL | BVMC-KG1R-006 |
| BVMC-KG1A | BVMC-KG1-WM | BVMC-KG1W-001 |
Mass merchandisers nationwide, including Bed Bath & Beyond, Brandsmart, JC Penney, Kmart, Lowe's, Target and Walmart, and online at www.mrcoffee.com from September 2010 through August 2012 for between $60 and $80.
Consumers should immediately stop using the recalled coffee brewer and contact JCS to receive instructions on how to obtain a free replacement unit. For additional information, contact JCS at (800) 993-8609 anytime, or visit the firm's website at www.mrcoffeerecall.com.
The following safety alert from the CPSC on August 9, 2012.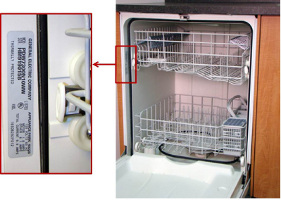 he U.S. Consumer Product Safety Commission, in cooperation with GE Appliances, of Louisville, KY announced a voluntary recall of the following consumer product. Consumers should stop using recalled products immediately unless otherwise instructed. It is illegal to resell or attempt to resell a recalled consumer product.
An electrical failure in the dishwasher's heating element can pose a fire hazard. GE has received 15 reports of dishwasher heating element failures, including seven reports of fires, three of which caused extensive property damage. No injuries have been reported.
This recall involves GE, GE Adora, GE Eterna, GE Profile and Hotpoint brand dishwashers. They were sold in black, white, bisque, stainless steel and CleanSteel™ exterior colors and finishes. The model and serial numbers can be found on a metallic plate located on the left tub wall visible when the door is opened. Model and serial numbers will start with one of the following sequences: div align="center">
Brand
Model Number Begins With:
Serial Number Begins With:
GE
GE Adora
GE Eterna
GE Profile
GLC4, GLD4, GLD5, GLD6, GSD61,
GSD62,GSD63, GSD66, GSD67,
GSD69, GLDL,PDW7, PDWF7,
EDW4, EDW5, EDW6,GHD4,
GHD5, GHD6, GHDA4, GHDA6
FL, GL, HL, LL, ML, VL, ZL,
AM, DM, FM, GM, HM, LM,
MM, RM, SM, TM, VM, ZM,
AR, DR, FR, GR
Hotpoint
HLD4
Sold at: Appliance dealers, authorized builder distributors and other stores nationwide from March 2006 through August 2009 for between $350 and $850.
Consumers should immediately stop using the recalled dishwashers, disconnect the electric supply by shutting off the fuse or circuit breaker controlling it and inform all users of the dishwasher about the risk of fire. For all dishwashers, contact GE for a free in-home repair or to receive a GE rebate of $75 towards the purchase of a new GE front-control plastic tub dishwasher, or a rebate of $100 towards the purchase of a new GE front-control stainless tub dishwasher or GE Profile top control dishwasher. Consumers should not return the recalled dishwashers to the retailer where they purchased as retailers are not prepared to take the units back.
For additional information, contact GE toll-free at (866) 918-8760 between 8 a.m. and 5 p.m. ET Monday through Friday or visit the firm's website at www.geappliances.com/recall.
The following Canadian regulatory news from the Health Canada posted on August 6, 2012.
Canada's new food allergen labelling regulations came into force on August 4, 2012. The Food and Drug Regulations require that most prepackaged foods carry a label and that the ingredients appear on labels in decreasing order of proportion. However, some ingredients used in food products which were previously exempt from declaration in the list of ingredients, (e.g., components of margarine, seasoning and flour) will now be required to appear on food labels also. M9ore information can be found at www.hc-sc.gc.ca/fn-an/label-etiquet/allergen/guide_ligne_direct_indust-eng.php.
The following news from the Seafoodsouce.com on August 1, 2012.
U.S. Reps Edward Markey and Barney Frank, of Massachusetts, on Wednesday introduced the Safety and Fraud Enforcement (SAFE) for Seafood Act, legislation aimed at minimizing the prevalence of seafood fraud on July 25, 2012. This bill would require full traceability for all seafood sold in the United States. U.S. Reps. William Keating, Walter Jones and Joe Courtney also co-sponsored the bill. This bill increases inspections, it increases penalties, and it increases coordination at the federal level and with state and local agencies."
Just this week, Oceana reported that nearly one-third of the seafood it had tested in South Florida was found to be mislabeled. The Washington, D.C.-based environmental NGO has conducted similar investigations in the Los Angeles and Boston areas, with similar results. There's been a heightened awareness of seafood fraud in the mainstream media since last year when The Boston Globe ran a two-part exposé on the problem. But seafood fraud has long been a problem which ranges for mislabeling to short weighting.
The following safety alert from the CPSC on July 12, 2012.

Chicco Polly High Chair are being recalled because children can fall on or against the pegs on the rear legs of the high chair, resulting in a bruising or laceration injury. This recall involves a range of Chicco Polly high chairs with pegs on the back legs intended for tray storage. The high chairs have a folding metal frame for storage and a reclining seat. The recalled high chairs can be identified by the model number and date code printed on a label on the underside of the seat, close to the footrest. The date code is in the format DDMMYYYY or YYYY-MM-DD. High chairs included in this recall were manufactured prior to October 13, 2010 and have one of the following model numbers on the label:
Model Numbers
00063803430070
05063803260070
00063803480070
05063803270070
00063803490070
05063803570070
00063803580070
05063803660070
04063765000070
05063803970070
04063765540070
06063765650070
04063765760070
06063765970070
04063803630070
06063803650070
04063803860070
06063803770070
04063803900070
06063803820070
05063765020070
06063803960070
05063803020070
06063803970070
05063803220070
07063803780070
These products were sold at retail stores including Babies R Us, Burlington Coat Factory, Buy Buy Baby, Shopko and Toys R Us, as well as online outlets including Albeebaby.com, Amazon.com, Babyage.com, Babysupermart.com, Diapers.com and Target.com from January 2005 through July 2012 for between $100 and $150. Consumers should contact Chicco for a free peg cover kit which will be mailed to them. To help prevent injuries before repair, consumers should store the tray on the pegs when the high chair is not in use. For additional information, contact Chicco toll-free at (800) 807-8817 between 8 a.m. through 5 p.m. ET Monday through Friday, or visit the firm's website at www.chiccousa.com/pollykit
The following safety alert from the CPSC on July 12, 2012.

Molenaar LLC, of Willmar, MN is recalling a folding step stool because the folding step stools can break or collapse unexpectedly when in use, posing a fall hazard to consumers. This recall involves 13-inch high folding step stools. The step stool is plastic and has a handle for carrying the stool when it is folded. The stools have a single step and come in beige with a brown top. The stools, which were used as promotional products, have various company logos imprinted on the side panel beneath the top of the stool.
The recalled stools were distributed free by various companies as promotional products between March 2012 and May 2012.
Consumers should immediately stop using the step stools and return them to the business printed on the step stool to receive a different promotional item. Businesses who purchased the product from Molenaar should return them for a refund or credit. Consumers or businesses can contact Molenaar LLC for more information.
The following safety alert from the CPSC on July 5, 2012.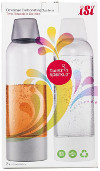 iSi North America Inc, Fairfield N.J is recalling Twist'n Sparkle Home Beverage Carbonation System plastic bottles because the plastic bottles can explode under pressure, expelling plastic parts, resulting in an injury hazard to anyone nearby. The products are plastic bottles used as a part of the iSi Twist'n Sparkle Beverage Carbonation System. The recalled bottles were sold in the Starter Set model number 1005 with one reusable bottle and the Bottle Set model number 1006 with two reusable bottles. The model numbers are printed on the bottom of the box. The recalled plastic bottles are available in one size and two colors of caps/bottoms, white or gray.
These were sold at: Williams-Sonoma, QVC and other national retailers and websites from June 2010 to March 2012 for approximately $50 for the Starter Set and $30 for the Bottle Set.
Consumers should immediately stop using the recalled products and either contact iSi or the place of purchase for instructions on returning the product for a refund or store credit. For products purchased online, contact the online retailers for instructions on how to ship the returns and receive a refund or credit. Note that the US Postal Service does not accept CO2 gas chargers for shipment by mail. For additional information, contact iSi at (800) 645-3595 anytime or visit the firm's website at www.twistnsparkle.com.
The following news is from JTA and religionclause.blogspot posted on June 22, 2012.
The Polish attorney general, "Andrzej Seremet, has submitted an application to Poland's Constitutional Tribunal after a number of non-governmental organizations claimed that the Ministry of Agriculture had "exceeded its legal rights" in creating an exception for ritual slaughter from the requirement that animals be stunned before they are slaughtered. In May, Poland's Agricultural Minister Marek Sawicki rejected demands of animal rights activists to end kosher and halal slaughter in Poland."